Today my writing group met and discussed my Nanonovel from 2005. It has been revised somewhat, and it now has an ending, but mostly it's the same as it was when I banged through it two Novembers ago. The meeting was helpful. I got a lot of feedback as to what needed beefing up, what was unclear, what scenes were working as I had hoped.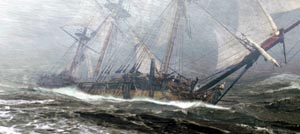 I had a massive plot hole, just a giant gaping chasm of a plot hole, which they did identify, and I was able to work out what to do, to fix it, right there in the meeting. Someone made a suggestion, someone else added a thought, and I had an idea, and then the problem was solved. This was amazing. I'm so relieved.
Am I supposed to be writing some sort of other novel, right now? Or something?