Ryan in a brown shawl collar.
Guilana in lavender with a sequined bandolier.
This picture is old: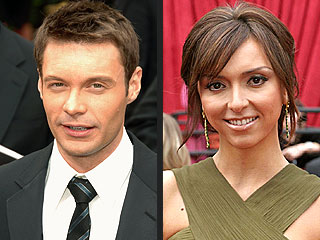 Kimora Lee Simmons postulates that girls are having babies and eating and therefore gaining weight. Giuliana says, "I hope we see a lot of that tonight."
Heidi Klum in bright red Galliano, made for her, which you can buy after the show. Ryan asks who she's looking forward to seeing tonight, and she says, "No one."
George Clooney says it's fun this time because it's a film they're all really proud of. So, last time they thought it was a big turd?
Anne Hathaway in bright red with rosettes across the bodice and over the shoulder.
Patrick Dempsey's arm candy in bright red.
Saiorse Ronan in emerald green.
Ryan Seacrest referencing Steve Carell's wife's tampons. Double plus ungood. Steve Carell looks irritated.
Amy Adams in dark green sweetheart sleeveless.
John Travolta's arm candy in orange.
Miley Cyrus in bright red.
Jessica Alba is pregnant and a purple swan has died on her boobs.
Seth Rogen's arm candy having savage tits.
Ryan Seacrest dangles Amy Adams' mesh bag in front of his privates.
Daniel Day Lewis with hunted eyes, pirate hoop earrings, grey hair in a frazzled mom bob. His tuxedo has brown piping around the collar.
Cameron Diaz in a folded napkin and fuck-me bangs and a messy ponytail.
Jennifer Garner and Laura Linney both in sleeveless black dresses.
STOP! Gary Busey has attacked Ryan Seacrest! And then he tongued Jennifer Garner on the neck! He is accompanied by a girl in a lime green tank top. Look for it on YouTube, I'm sure it will be there. Letting Gary Busey out on live television is stoopid.
Keri Russell in a flesh-colored corset dress and great jewels.
Kristen Chenoweth in a Cameron Diaz wannabe contest and has back cleavage.
Marion Cotillard in a mermaid dress with real! scales!
Jessica Alba has beautiful hair but a pregnant woman should not be in a sleeveless dress.
Jennifer Hudson in a white empire waist drapey goddess dress with snakeskin trim. There is no doubt how many boobs she has. Two.
Tilda Swinton with bright red hair, wearing a torn Hefty bag, no jewelry, and looking like an angry young fetus.
Hillary Swank in an upsweep, black feathery dress, one strap, no those are flowers on the bodice.
Colin Farrell has been aggressively tanning.
George Clooney's girlfriend is wearing my grandmother's quilt as a corset.
Tilda Swinton has Emma Thompson eye skin and the whole "mumbling through a large mouthful of loose teeth" thing going on.
Diablo Cody who wrote Juno is in leopard and diamond. Lips like a monkey butt.
Ellen Page in a black flapper dress with spaghetti straps, long, long rope necklace.
Harrison Ford as the abominable snowman and Calista Flockhard as an emaciated Nely Galan.
Katherine Heigl in bright red.
Johnny Depp looking studious and devilish.
Viggo Mortensen looking like Kris Kristofferson in a thick multicolored beard.
Cate Blanchett looking like she's out getting lettuce. Pregnant as a bumpkin and hasn't combed her hair.
Renee Zellwegger wearing a living diamond, absolutely stunning amazing dress, short hair, she looks great. And I do not like her much. She should have had this haircut years ago. And she should always walk around wearing a crushed chandelier.
That is all. I may add pictures at a later date.